Large Credit Card Companies Like Visa, Mastercard Have Blocked People from Using Their Credit Cards on Adult Websites
National ENQ Reports: Credit card companies Visa, Mastercard and Discover, as well as the giant financial services provider PayPal have all withdrawn their services on adult websites, news that have gathered backlash from loads who have been regularly using their credit cards on the top adult entertainment platforms.
Blocking people from using their credit cards to make purchases on adult websites has once again called for outrage towards Big Tech and corporations, as people criticized Mastercard, Visa and Discover upon hearing the news.
Along with PayPal, which made the controversial move some time before, Mastercard, Visa and Discover have terminated their cards from being used on websites that provide access to adult digital content like porn videos, pictures, as well as other products & services related to the XXX industry.
National ENQ Debate: Corporations like Visa, Mastercard Regulating What You Can & Can't Watch – Dropping Their Services Means Taking Away Your Freedom
Although Visa, Mastercard, PayPal and Discover have tried to justify their oddly simultaneous decision of backing out by stating they're private companies and have the right to do it, people are outraged by the breach on their freedom, and most have come to the conclusion: "if it's my money, why should they tell me what I can't do with it?"
Key figures have pointed out that this planned financial sabotage has not only directly targeted the porn industry as a whole, but also left its mark on the people, with many arguing that Visa, Mastercard, Discover and PayPal are essentially public services, since there aren't many other reliable providers for people and platforms to choose from – and their actions are unjustified and are a sole product of monopoly.
National ENQ: This Is Where Bitcoin Comes in, the Currency That Will Save the 21st Century
It's widely known that Visa, Mastercard, Discover and PayPal aren't only targeting the adult industry. Aside from suspending their services on the whole MindGeek network, which includes Pornhub, Redtube, Xtube, YouPorn and Brazzers, they have also withdrawn their services from many online shops and other websites which they deem unsuitable, in spite of the recent political showdown in the United States.
With the rise of cryptocurrency and Bitcoin being the only reliable payment method to use along with the recent events, Bitcoin Porn Hub, at BitcoinPornHub.com offers instant access to millions of porn videos, with no need to use your credit card. Even though they were fully legal, the payment providers and giant companies continue to limit your access on the websites they deem unsuitable for their services.
BitcoinPornHub.com is not only a way around the recent censorship – it's the new normal. Bitcoin Porn Hub offers users access to millions of porn videos in exchange for different types of memberships, purchasable directly with Bitcoin – this means you'll be watching your exclusive porn content without needing to worry about your access being limited. Everything on Bitcoin Porn Hub is also safely encrypted and built based on Bitcoin's Blockchain technology, for full anonymity with your purchases online.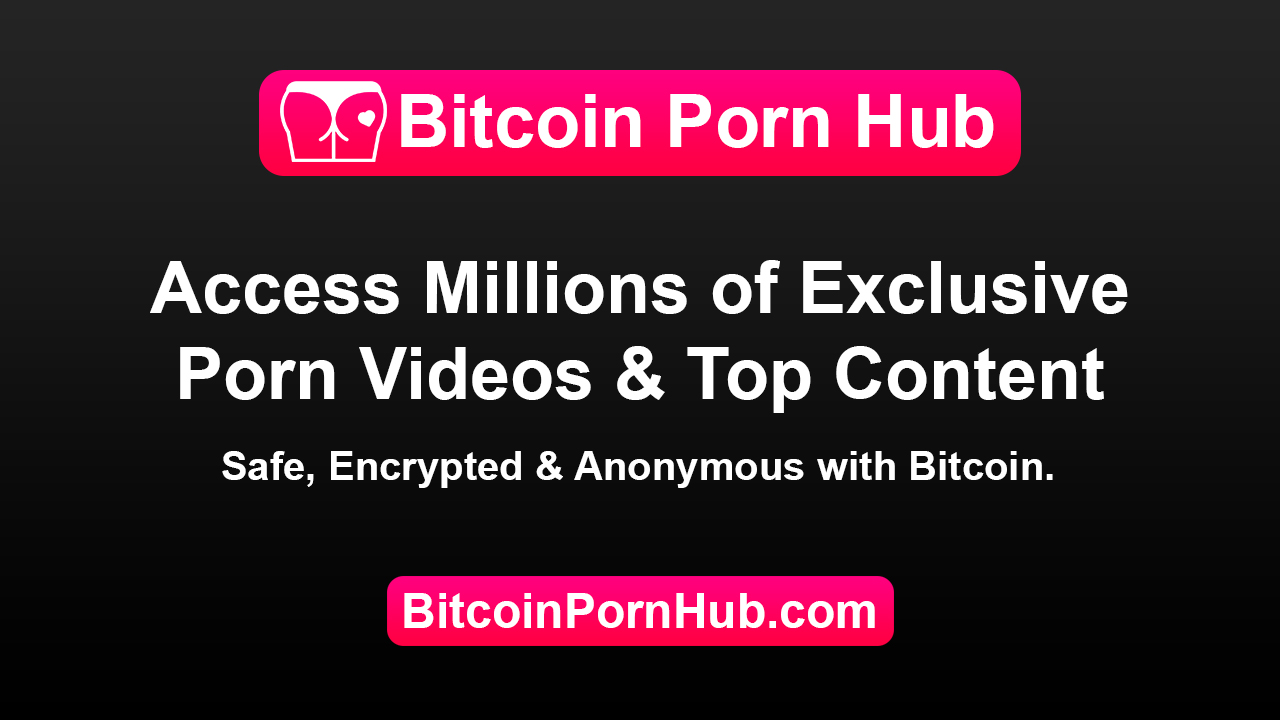 Along with Big Tech like Facebook, Instagram, Amazon and Twitter, who have all taken turns on banning and restricting every strand of content that they don't want to be seen and, effectively, censoring people and websites they don't like, payment providers have gone as far as suspending Donald J. Trump's campaign website payment processing services, along with numerous other platforms that they deem unsuitable. This, again, has been criticized by people, as being once again immoral and just true evidence of modern-day censorship.
This is where Bitcoin, the world's top cryptocurrency comes in – with no corporations, Big Tech or governments to regulate it, Bitcoin remains the only way people can get to the content they want. Even though the adult websites in question have taken drastic measures in order to comply with the outrageous demands and regulations, by removing millions of adult videos from their platforms and implementing top security and mandatory user verification, Visa, Mastercard, PayPal, as well as Discover have went ahead with their unjustifiable decisions of withdrawing their financial services, with barely any excuses or reasons presented to the hundreds of daily website visitors and platforms that were affected.