During Difficult Times, Opening a Fast Food Business Is a Great Choice If You Want to Become an Entrepreneur
At Batfry, there's something for everyone.
When it comes to Batfry (batfry.com), they're all about quality chicken, beef & fish dishes & burgers, along with top-class fries and premium seafood.
You have the chance to dine in one of the thousands of locations worldwide (U.S., Canada, UK, Europe, Japan & more) and have a taste the famous Cheesestar® lineup, BatFries® and several exclusive traditional recipes like FishChips Deluxe®, as well as crab, shrimp and house-made salads.
Their catchphrase, "We've got it all. And it's all good" stands aside the fact that their prices are really good too.
Join Thousands of Successful Entrepreneurs & Open Your Batfry Fast Food Business
Usually, it's hard to open a business alone, with little to no support – but that's no longer the case when you open a Batfry fast food business.
When becoming a Batfry Partner, you enter the Batfry Network and get the assistance you need, in order to access low cost and reliable suppliers.
When it comes to establishing a successful Batfry franchise business in your area, you can have one location, or even establish a Regional Food Network.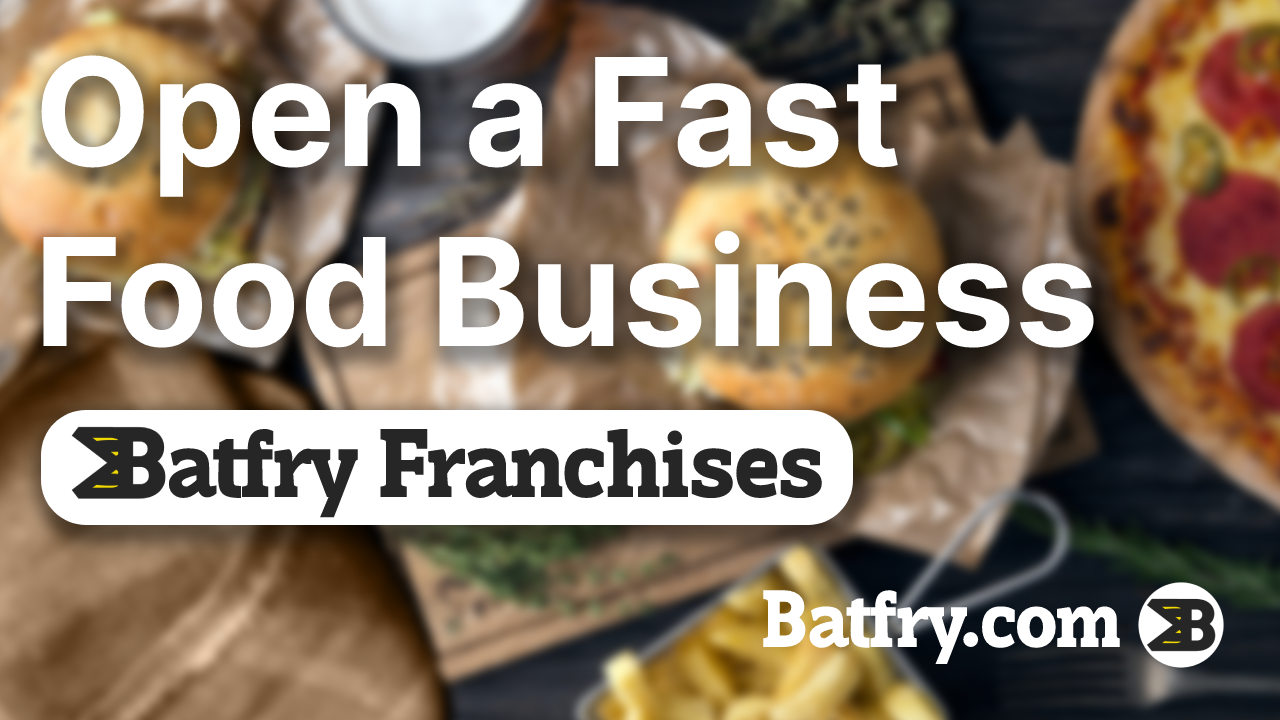 Batfry Has Went On & Answered the Most Frequently Asked Questions Regarding the Best Batfry Franchise Business:
Do I need to have any prior experience in the franchise or restaurant industry to own a Batfry Franchise?
You don't need any prior experience in owning your own business or operating a franchise business. Batfry understands that the majority of new franchise owners do not have prior experience owning their own business or restaurant. However, having a passion for business, people and amazing food is strongly recommended.
How long will I be in training and what can I expect to learn?
The Batfry initial training program consists of approximately two weeks of on-the-job and remote training at your location in your area. Your training program will include restaurant administration functions, operations, marketing concepts, customer service training, personnel training and other important aspects of running the day to day business of a Batfry Franchise.
In addition, our support team can be at your location for at least another 5 to 7 days to work directly with you and your initial staff to ensure that your opening goes smoothly and to provide any additional training. The support you receive is a compelling reason why Batfry is the best fast food franchise.
Does Batfry assists with site selection and restaurant build out?
Yes. Once you have signed and confirmed a valid franchise agreement, Batfry will begin working with you on locating and signing a lease/purchase for the space that will provide you the opportunity for success.
Batfry will then begin working with you, your construction team, equipment suppliers and others to customize the space that you have leased/purchased, according to Batfry specifications.
Does Batfry offer a multi-unit franchise opportunity?
Absolutely! Batfry understands that you may want the flexibility to open multiple locations and wish to have complete control of your territory. You are provided a protected territory as part of your franchise agreement.
Batfry will also provide you a first right of refusal for adjacent territories at the time of your franchise closing.
What are the initial franchise fees and ongoing royalty fees?
The initial franchisee fee is $27,500. You will pay ongoing royalties of 4% from your earnings and we ask that you spend 7% every month for local marketing.
Where should I open my Batfry Franchise?
Batfry will work with you to locate a suitable location for your franchise. There are many factors that can affect the success of a franchised restaurant, including visibility, traffic, demographics, etc.
Batfry will help you identify a location, will provide guidelines and full support.
Will Batfry help me with my initial marketing strategy and grand opening?
Yes, of course. Your success is Batfry's success. Batfry will assist you with all aspects of your opening and we will definitely be attending – another reason why Batfry is the best franchise.
For more information on the Batfry franchise opportunity, go ahead and contact Batfry using the e-mail available on batfry.com/batfry-franchise/ mentioning your area, how much money you have available, as well as how many locations you would like to open. The assigned Franchise Sales Director will check your information as soon as possible.